Due to unforeseen challenges at Orin Swift Cellars, our receipt of the featured "8 Years in the Desert" has been delayed into mid-March. Because of this uncertainty, we must cancel the Wine Pairing Dinner scheduled for 2/6/18. A full refund has been issued to those who signed up, and we sincerely appreciate your patronage. Thank you for your support of our culinary adventure. ~The Team at Tavern West
What could be better than Tavern West's first Wine Pairing Dinner as an early Valentine's Day treat for your love? This exclusive event will feature the debut of Orin Swift Cellars' "8 Years in the Desert," along with three of its sister varietals, and a specially-crafted 5-course meal with a dessert + cocktail pairing. Considering that only 24 bottles of "8 Years in the Desert" have been allotted to the Colorado mountain region (and we will have 8 of them), we could not be more excited! Here's a bit more of the backstory: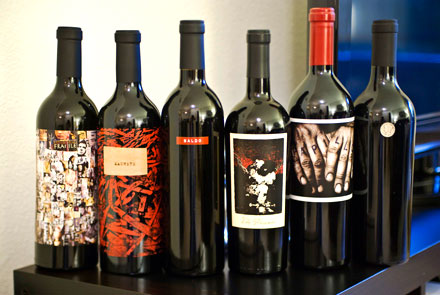 Dave Phinney loves to tell stories. The founder and winemaker of Napa Valley's Orin Swift Cellars is a multimedia storyteller. Through the nuanced complexity of his wines, he tells stories of the California vineyards from which they are sourced, of the barrels in which they are aged, of the land and its fruit, its earth, and its water. He tells stories with the labels on the bottles of those wines….with names like "Machete," "Blank Stare," and "China Doll," one's curiosity is piqued. But the evocative artwork on those labels—from an "Abstract" collage of old photos and dusty knick-knacks to the word "Papillon" tattooed across the fingers of a sturdy pair of hands, or photos of a machete-wielding woman atop a vintage white Cadillac—is downright cool, and enough to make you grab a bottle off the shelf without caring what's inside. Lucky for you, Phinney's wines are up to the hype.
Because of the level of care and passion that goes into the Orin Swift wines, the Tavern West team jumped at the chance to collaborate on a Wine Pairing Dinner, a singular event with one seating and no other "business-as-usual" on Tuesday, February 6, 2018, at 6:30 pm. Chef Ryan and company saw this dinner not only as an opportunity to showcase new flavors, techniques and ingredients, but to have them play and blossom against the intricacies of the selected wines.
Call soon to reserve your spot for Orin Swift @Tavern West for a Valentine's treat to remember. $160 per person includes the 5-course meal with 4 wines and a specialty cocktail, as well as tax and gratuity.